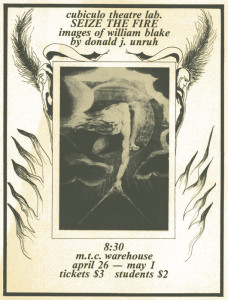 A dramatic work based on the writings of William Blake by Donald J. Unruh
Incorporates Blake's Songs of Innocence and Experience and sections of the prophetic books.
Includes songs for chorus unison and two parts, with dances and interludes for piano, or chamber orchestra.
Premiere: Winnipeg Cubiculo Theatre Lab 1976. Kay Unruh – director.
CAST

SYNOPSIS

Jerusalem
Echoing Green
Children of a Future Age
The Land of Dreams (Awake, Awake)
A Divine Image (Cruelty)
Tyger Tyger
London (Chimney Sweeps)
Hear The Voice Of The Bard
The Morning Comes
I Saw A Chapel All Of Gold
The Poison Tree

Instrumentation: 1220/0100/percussion/piano/cello.
Script and piano vocal score for sale.
Orchestra score and parts for rent.