The Mennonite Piano Concerto
Piano concerto No.1
1975
32'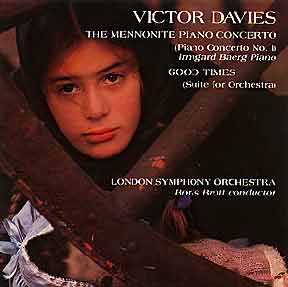 Sonata 11'; Theme and Variations 14'; Rondo/Scherzo 7'
Based on traditional Mennonite hymns: (English Victorian hymns and American Gospel songs in German translations)
Commissioned by the Fast Foundation with the Manitoba Mennonite Historical Society.
Premiere: Irmgard Baerg, piano, the Winnipeg Symphony Orchestra, William Baerg, conductor, 1975.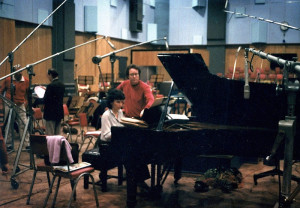 Widely performed across Canada, (CBC Winnipeg Symphony, Boris Brott, conductor; Vancouver Symphony Orchestra, Jon Washburn, conductor; National Arts Centre Orchestra; Hamilton Philharmonic Orchestra; Kitchener-Waterloo Symphony Orchestra; Symphony Niagara, Mississauga Symphony and Georgian Bay Symphony, John Barnum, conductor; Boris Brott Summer Festival etc) and performances in the USA (Chicago, Seattle, North Dakota, Kansas, Philadelphia), and Bulgaria, and China, Howard Dyck, conductor.
Heard world-wide on radio, it is the most requested work on CBC Radio 2 in Canada and is heard on BBC, American and National Public Radio in the US. In 1996 it was #8 in sales on Classic FM, the most listened to classical broadcaster in the UK. In 2007 it was voted #50 in Australian Broadcasting poll of listeners for 100 Top Concertos.
2 piano version premiere: Irmgard Baerg and Jenny Regehr, 1986. Is often performed in this two piano version in church and community settings. Adapted as the score for the film And When They Shall Ask
Suitable for: pop concerts, also main classics concerts series.
Difficulty: Has been performed by pianists from teens to seasoned professionals and youth/community to professional orchestras.
Instrumentation: Piano, 2222/4330/timp/2 perc/strings.
Two piano four hands reduction (by Suzanne Davies), and orchestra study score for sale (full score and orchestra parts – rental)
On the CD The Mennonite Concerto (1983), Irmgard Baerg, piano, The London Symphony Orchestra, Boris Brott conductor.
"In our day great talent is required to make traditional music respectable…..there are many moving and delightful things throughout" Chester Duncan – Arts Manitoba 

"The style of the music varies from Mozartian lightness in the second movement variations, to the lazy jazz syncopations of the first movement and the fun-making play with bells and percussion in the final movement. Davies is definitely a populist composer." David Doughly – Classic FM Magazine