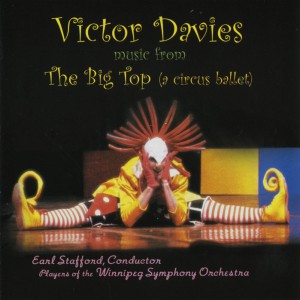 A one act story ballet. A little girl runs away to the circus and discovers the bright lights, the dark shadows, and finally friendship under the Big Top.
Commissioned by the Royal Winnipeg Ballet.
Choreography, Jacques Lemay; conductor, Earl Stafford.
Story: Janis Dunning and Jacques Lemay;
Toured Canada with 52 performances. Made into a 1 hour CBC TV special directed by Norman Campbell, with numerous showings abroad and in Canada on CBC TV, and BRAVO. Winner of Silver Award Houston World Film and Video Festival 1989.
Intro (Come to The Big Top Song); Overture (The Midway); Aerialists! (Los Pajaros); The Equestrians!;Pranksters/Prelude; Lion Pas de Deux; The Gypsies; Lion Tamer (Apache); Clown Pas de Deux (Make Up Mime); The Snakes; The Joeys! (The Clowns); Madame Fifi and Her Amazing Canine Friends! (The Poodles); Jungle Jeopardy! (The Big Cats); Princess Natya & Her Scimitars; Parade of the Acts; Finale & Bows.
Instrumentation: 2222/4331/timp/3 perc/harp/piano=Dx7/strings. (Also orchestrated for 14 or 36 instruments)
Piano rehearsal score and full score for ballet for sale (orchestra parts – rental)
also see Orchestra for Big Top Suite and CD – The Big Top
"The original score is lively and fresh ". Greg Quill – Toronto Star

"…this is a wonderful eclectic musical score…" Neil Harris – The Winnipeg Free Press