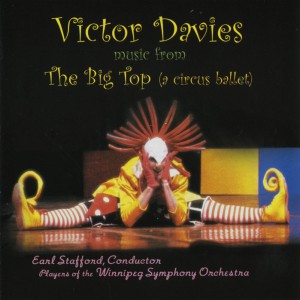 In preparation for Concert Band. Information for the Big Top Suite for orchestra below.
Colourful tuneful selections of the circus act music from The Big Top (a circus ballet) commissioned by The Royal Winnipeg Ballet.
The Equestrians!; Make Up Mime; The Joeys!(The Clowns); Madame Fifi and Her Amazing Canine Friends! (The Poodles); Jungle Jeopardy! (The Big Cats); Parade of the Acts!;
Finale and Bows!
Suitable for children's, school, pop or main concerts series.
Difficulty: good youth/community to professional orchestra.
Suite premiere: Toronto Philharmonic Orchestra, Paul Robinson, conductor, Oct 27 1991, also: Toronto Symphony Orchestra, National Arts Centre Orchestra and Saskatoon Symphony Orchestra, Earl Stafford conductor; Mississauga Symphony Orchestra and Georgian Bay Symphony, John Barnum, conductor; Georgetown Symphony Orchestra; Vancouver Youth Symphony Orchestra, Arthur Polson, conductor, also performed on their European and Australian tours; Hamilton Philharmonic Orchestra, Howard Cable, conductor.
Instrumentation: 2222/4331/timp/3-4 perc/harp/piano=Dx7/strings
Score and orchestra parts – rental (also see Dance)
CD of the complete ballet The Big Top includes the sections which make up the Suite.
"Embodies Davies' versatility, exuberance of style, and renowned mastery of melody and orchestration, transporting audiences of all ages into the irresistible world of the circus"

"The original score is lively and fresh". Greg Quill – The Toronto Star " (TV show)
…"this is a wonderful eclectic musical score…" Neil Harris – Winnipeg Free Press (ballet)

…"Robinson and the Toronto Philharmonic seemed to love cavorting through the roustabout hilarity Davies has written into his circus music. No wonder the audience cheered him when he took a bow" – Ronald Hambleton – The Toronto Star (premiere of the Suite)