Your Earnest! My Earnest!
From Earnest, The Importance of Being
Michelle Garlough – mezzo soprano
Charlotte Knight – soprano
Narmina Afandiyeva – piano
---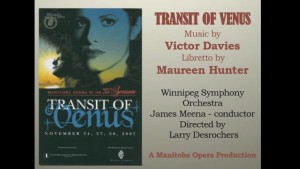 Transit of Venus
Video contains story line, photos, and music highlights of Manitoba Opera premiere production November 24, 27, 30, 2007.
Music – Victor Davies, Libretto – Maureen Hunter (based on her play, Transit of Venus)
Conducted by James Meena, Directed by Larry Desrochers
Photos: Robert Tinker
Music samples from CBC radio live network broadcast
---
Concerto for Car Horns – Victor Davies a mini bio
A mini bio of Victor Davies in the context of the premiere of Concerto for Car Horns (an automotive romance). Bramwell Tovey (who commissioned the piece) is seen rehearsing and conducting the Winnipeg Symphony Orchestra in excerpts of the world premiere, at the famous corner of Portage and Main. Davies' video bio includes interviews with him, and photos and videos of his multifaceted career.
(Includes photos of bands – The Cools, Vic Davies Jazz Ensemble, rehearsals for premiere of the Mennonite Piano Concerto and recording session of it at London's Abbey Road studios, video of rehearsals and performances of Revelation (an oratorio), The Big Top (a circus ballet), etc (Narrator- Robert Enright)
---
Colours of Jazz
Be Bop Fiction, Sweet Swing, In The Alley, Crazy Rags, Midnight Melancholy
Five short jazz flavoured chamber pieces written for the Dirk Eitzen film Persistence of Vision about the lives and art of several outstanding African American artists.
(http://www.mennonitewriting.org/journal/4/5/dirk-eitzen-filmography/)
Music accompanies a montage of the artist's paintings and sculptures. Performed by: Kimberly Fischer (violin) Hal Robinson (bass) Tom Lawton(piano), Maurycy Banaszek (viola), John Haines-Itzen (cello).Recorded at Curtis Institute Concert Hall, Philadelphia June 2003.
---
Berceuse For Livia
Commissioned by Theodore Arcand for the christening of his granddaughter Livia in the family chapel in Tuscany.
Performed by Beverly Gertsman, who has performed it to acclaim in recitals around the world.
---
The Big Top (a circus ballet) excerpts (8′) by Victor Davies
Royal Winnipeg Ballet, Jacques Lemay – choreography, sets and costumes – Mary Robinson Kerr
Excerpts include – The Big Top (main theme), The Aerialists! (Los Pajaros), The Equestrians!, Lion Pas De Deux, Clown Pas de Deux (Make Up Mime), The Snakes!, Madame Fifi and Her Amazing Canine Friends! (The Poodles); Jungle Jeopardy! (The Big Cats), Princess Natya and her Scimitars, Bows! Finale, The Joeys! (the Clowns)
---
Fun For Four
Well known Winnipeg band leader and personality Jimmy King interviews Davies. The Festival Quartet: Arthur Polson 1st violin/leader, Eugene Kowalski 2nd violin, Rennie Regehr viola, Brian Epperson cello, play the first three movements –
Disco-Bossa, The Magic Carpet, Blues-Ragtime (the fourth movement, Main Street, although mentioned by King is not here) June 4, 1982, TV broadcast (CKND-TV) Winnipeg.
---
Film Music Showcase 1
Segments from: For the Moment (feature film – WW 2 bitter sweet romance), Toothfairy Where Are You? (1/2 hour children's animated special), Nutcracker Prince (feature length animated family film), Cowpunk (half hour drama), The Last Winter (feature film – coming of age in the 50's), One of Our Own (feature film – suspense)
---
Film Music Showcase 2
Segments from: And When They Shall Ask (feature length docudrama, the Mennonite Experience in Russia), Teddy (The Pit)(feature film -horror), Let's Go! (children's TV series, samples of songs, words and music – Victor Davies), The Rockets (children's TV series, samples of songs, words and music – Victor Davies)