(music and libretto adapted by Victor Davies from the George Ryga play) continues to sing ahead! 
Click here for the full review
In March 2018, the Voice Box/Opera In Concert Toronto semi staged production received standing ovations. Reviewed by Ian Richie in Opera Going Toronto: "Davies has produced a score of sweeping breadth and emotion, brilliantly articulated, instantly accessible"
This was followed by an equally well received concert version at Ryga Fest in Summerland BC in August 2018 with standing ovations A full production with an orchestra of thirteen is hoped will take place in Western Canada when the pandemic is over. 
Video samples here sung by Rose Ellen Nichols who played Rita Joe in the Summerland production.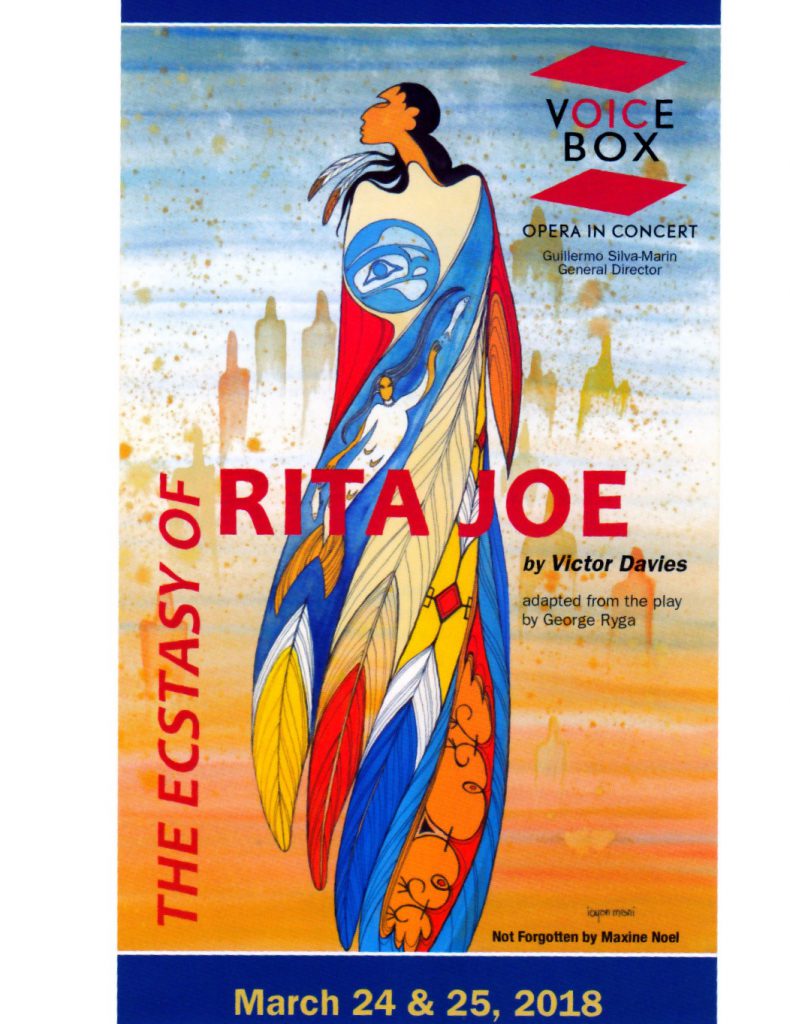 MORE! The Toronto production by Voice Box/Opera In Concert was directed by Guillermo Silva-Marin, music director Robert Cooper conducted The Opera in Concert Chorus with a reduced orchestra and featured Marion Newman as Rita Joe, Evan Korbut as Jaimie Paul, Everett Morrison as The Father, Stewart Graham as The Priest, Michael Robert-Broder as The Magistrate, Michelle Lafferty as Eileen Paul, and Rose Ellen Nichols as the Old Indigenous Woman.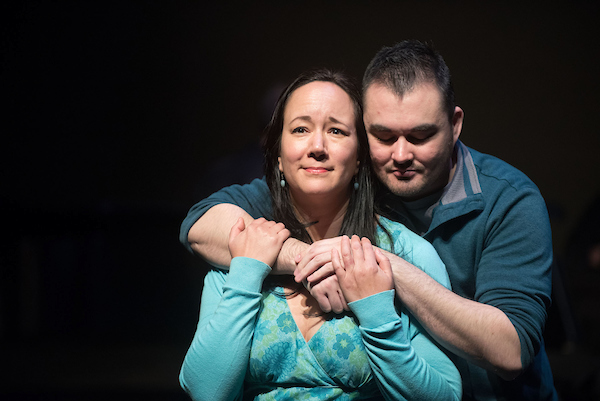 Rita Joe & Jamie Paul
Rita Joe: "Oh Jaimie! What's happening to me?"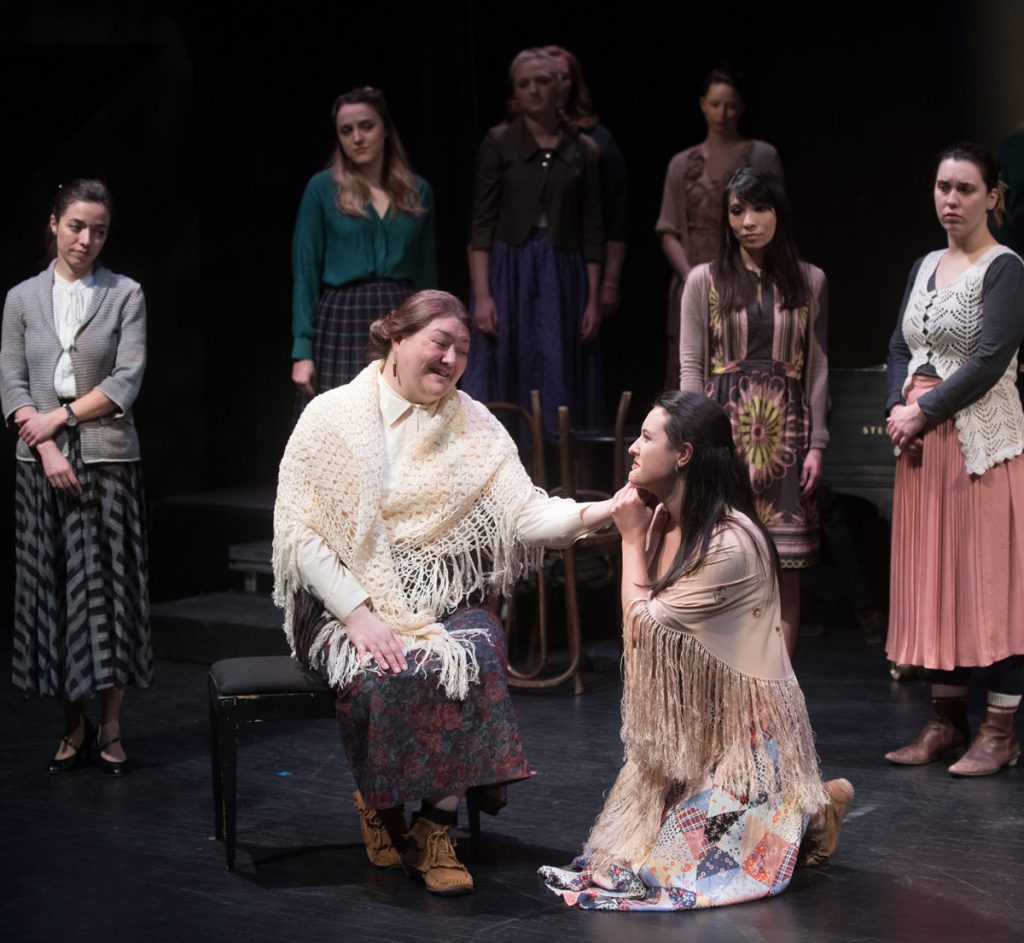 Old Indigenous Woman & Eileen Paul
"The city's no place for anyone!"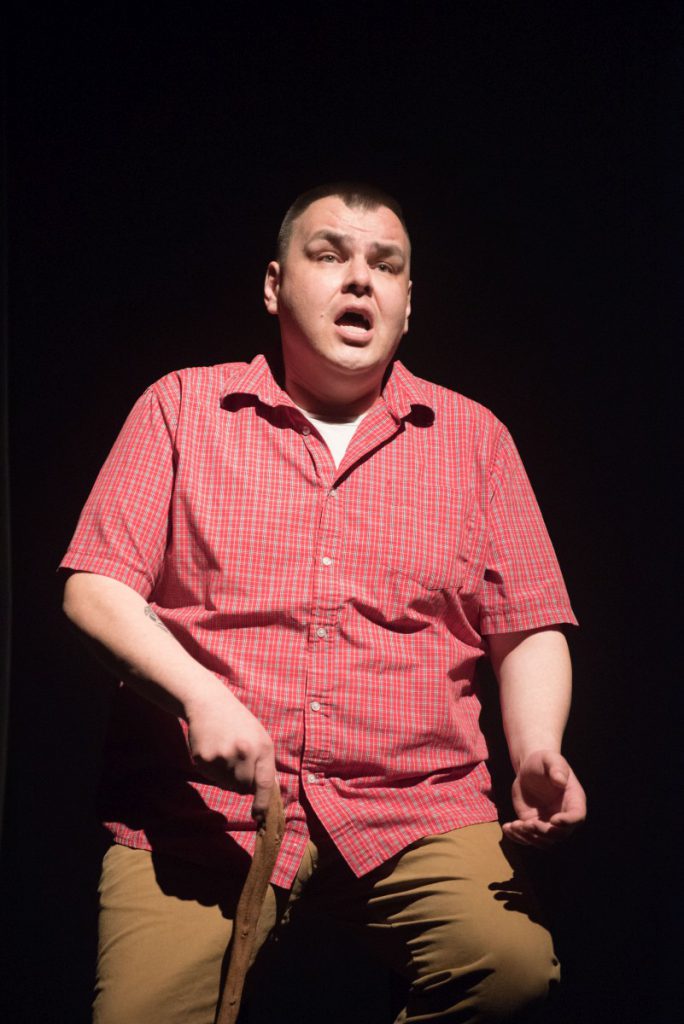 Rita Joe's body is revealed clothed in a red dress. The tragic symbol in remembrance of the missing and murdered Indigenous women.  "Applauding Rita Joe we remember them all."
The Summerland concert production with pianist (Narmina Afandiyeva) staged by Heather Davies, conducted by Victor Davies, with Rose Ellen Nichols as Rita Joe and The Old Indigenous Woman, Evan Korbut as Jaimie Paul, Everett Morrison as The Father, Stewart Graham as The Priest, and Magistrate, Michelle Lafferty as Eileen, Paul Dennis Miller as Narrator and a quartet of singers for the Chorus.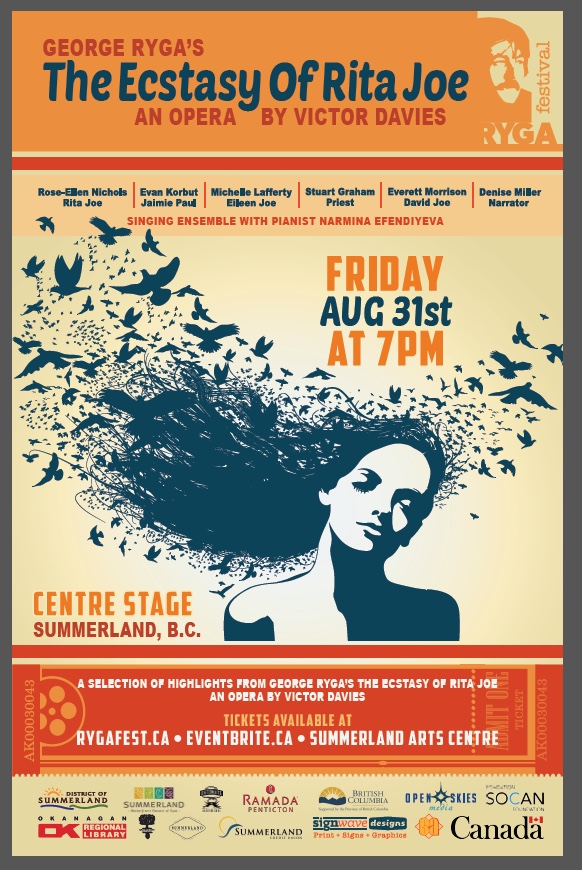 The composer writes: "for many years my dear friends John Juliani and August Schellenberg urged me to write an opera based on The Ecstasy Of Rita Joe.  After composing the music for the CBC radio adaptation of the play, I thought it might be possible. Although 50 years old, the issues and situations in the play are very much alive.  A tragic love story of two young Indigenous people moving to the city, the text of the play is powerfully evocative, poetic, with vibrantly alive characters.  The play, known throughout the world, is often credited with being the first major Canadian play. In its premiere in Vancouver Francis Hyland played Rita Joe, August Schellenberg was Jaimie Paul, and Chief Dan George played Rita Joe's father. Encouraged by Winnipeg Indigenous singer and educator Rebecca
Chartrand, I plunged into adapting the play into an opera libretto under the watchful eyes of colleage Larry Desrochers as dramaturge.
A reading of the libretto for The Ecstasy Of Rita Joe (an opera), was given a successful workshop by Opera In Concert, Artistic Director – Guillermo Silva-Marin, in May, 2014. Directed by Heather Davies, performers Laura McAlpine, Stefan Fehr, Gregory Finney, Elizabeth Beeler, Virginia Reh, Domenico Sanfilippo, Henry Ingram, and Guillermo Silva-Marin, brought the text to life and showed the exciting possibilities for the work. This led to the Toronto production in 2018"
1st Edition of the Piano Vocal Score for sale in the store