Music by Victor Davies, libretto by Eugene Benson – is based on the beloved novel by Charles Dickens.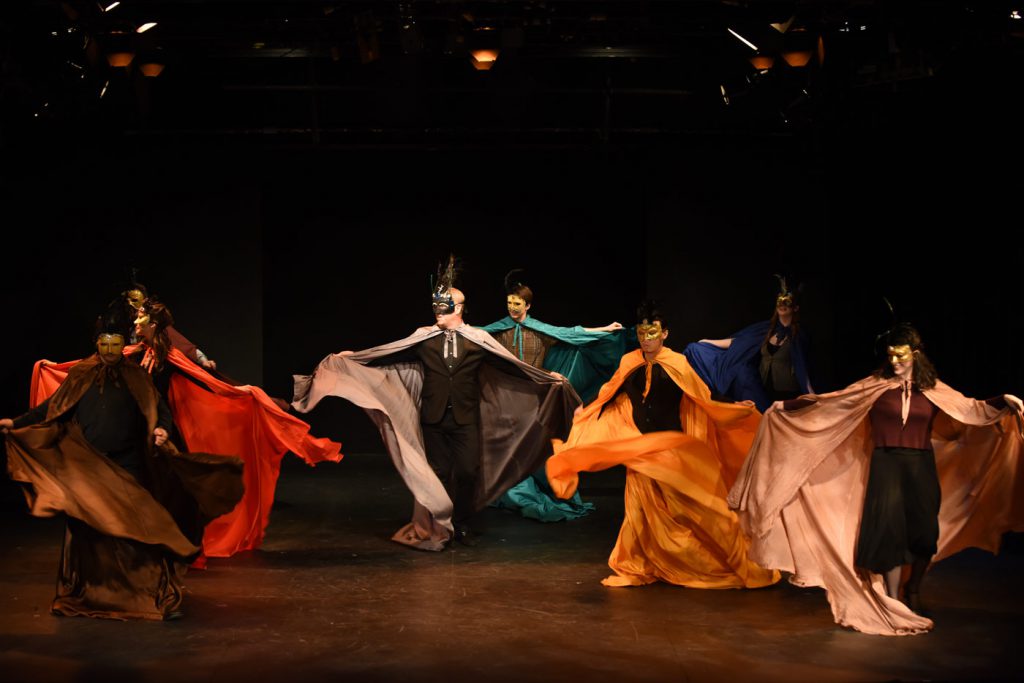 Set in London and Paris two love stories unfold driven by the powerful emotions of the characters of Dickens' story. It is a saga of love and passion, hatred and revenge, cruelty and self sacrifice played out against the turbulent background of the French Revolution, which tells the story of a man who dies on the guillotine to save the life of his rival in love.
Tale Of Two Cities started life as a musical but Davies and Benson realized over time they were writing a sung through musical or a modern opera.
A fully staged production of the complete opera was presented by Summer Opera Lyric Theatre of Toronto in 2016. Photos of this production are below.
Click here to view the Piano Vocal Score (in the Store)
The three tracks presented here were recorded in Winnipeg in 2002.
If ever I should go away
As Charles Darnay prepares to set out from London for Paris and to almost certain death on the guillotine, he and Lucie Manette, sing of their everlasting love though parted by great distances and time. Edward Ledson – baritone and Donna Fletcher – soprano . Piano – Victor Davies.
Out of the darkness came his hand
Stella, Lucy Manette's companion, remembers how as a child on the streets of Paris Sydney Carton rescued her from the depths of despair.
Sung by Ma-Anne Dionisio, Victor Davies piano
I love him completely and forever
Stella declares her love to the doomed Sydney Carton. (Carton, in his love for Lucy Manette and to save his rival her husband Darney, takes Darney's place in prison and sacrifices himself to be guillotined.)
Sung by Ma-Anne Dionisio, Victor Davies piano
A Tale of Two Cities: An Opera in Two Acts
Music Victor Davies Libretto Eugene Benson
Benson's brilliant libretto based on Dickens' novel has, by the compression of time, and a focus on the principle characters of the story, encapsulated the essential story and action into an evening's length work. Propelled by Davies' passionate music,  which lifts the story to epic heights through unforgettable melodies, epic choruses, underlining the poignant fate of the characters torn by unrequited love, revenge for family, and the fall of the mighty, will move and engage the listener.
This adaptation of A TALE OF TWO CITIES contains memorable roles for singers whose characters lives are fated to cross with tragic and brutal consequences. In its portrayal of the power of love, the nobility of self-sacrifice, and the nature of terror, it is a saga of love and passion, hatred and revenge, cruelty and self sacrifice played out against the turbulent background of the French Revolution, which tells the story of a man who dies on the guillotine to save his rival in love.
ROLES
SYDNEY CARTON, about 27 (tenor) a lawyer, feels himself a failure but has always loved Lucie Manette. Drinks and gambles too much. Searching to find meaning in his life.
LUCIE MANETTE, about 20 (soprano) brought to London from Paris as a ward of Mr. Lorry. Hopes to find her family someday.
STELLA, mid 20s (mezzo-high) saved as a child by Carton from the mean streets Paris to become Lucie's companion.
MADAME DEFARGE about 40 (mezzo-low) vengeful, and focused on righting the wrongs her family has suffered.
Dr. MANETTE about 50 (high baritone) Lucie's father, he has been wrongly imprisioned in the Bastille for 19 years.
CHARLES DARNAY, about 27 (tenor) Son of MARQUIS ST EVRÉMONDE. He has moved to England and given up his French title. (doubles PEASANT BOY Act 1 Scene 1)
MARQUIS ST EVRÉMONDE, about 60 (bass baritone) A cruel aristocrat (doubles PRESIDENT of the court in Act 2)
MR LORRY, about 60 (tenor or high baritone) of TELLSON'S BANK (doubles BARSAD, a spy and double dealer in search of money )
DEFARGE, about 40 (baritone) Husband of MADAME DEFARGE (doubles BARON DE BOULAIN, 35)
COMTESSE DE FLEURY about 45 (soprano) an aristocrat.
COMTE DE FAUCHET, about 45 (high baritone/tenor) an aristocrat (doubles JACQUES ONE)
GABELLE, about 60 (baritone) Overseer of the EVRÉMONDE estates (doubles JACQUES TWO)
CHORUS: CROWD, ONLOOKERS, GUARDS, SERVANTS, JAILERS etc.
SYNOPSIS
Act 1
In the opening scene the Marquis St. Evremonde and aristocrats celebrate New Year's Eve and pour scorn on the starving peasantry. Church bells ring in 1789, the year of the French Revolution. During the celebration the Marquis is confronted by a peasant about the rape of his sister, and in the sword fight that follows, he is killed.
In London, Lucie Manette learns from the banker Mr. Lorry that her father whom she thought dead had in fact been imprisoned in the Bastille for eighteen years. He is now in hiding in Paris with his former servant Defarge and his wife Madame Defarge. With the help of Sydney Carton, a lawyer, Lucie, Lorry and her companion Stella bring Dr Manette back to England. On this voyage Lucie meets the son of the Marquis St Evremonde, now a teacher in London who has assumed the name of Charles Darnay. Darnay is accused by Barsad, a spy, of being a spy for France. Carton, who is in love with Lucie, secures Darnay's release only to learn that Lucie and Darnay have fallen in love and are to be married. In Paris the French Revolution breaks out and the Marquis is murdered.
Act 2
Darnay, informed by Carton that his old servant Gabelle has been condemned by the revolutionary French government, goes to Paris to help him but is captured and tried, found guilty, and sentenced to be guillotined on the evidence of Madame Defarge. Carton takes Darnay's place in prison despite the pleadings of Stella who loves him. Carton's sacrifice and heroism saves Lucie, their unborn child, and Darnay, enabling them to return with Dr Manette to London.
Summer Opera Theatre Production of Tale of Two Cities 2017